Love the economy pneumatic press
I love my economy pneumatic press I received a couple days ago. The price was great. I had originally ordered the hand press, but having RA it didn't help me like I thought it might. Jason was great in helping me returning the hand and walking me through what to do on the sides. I have also sent an email and got a very quick response on a couple of questions I had. I will definitely be ordering more molds in the future. I highly recommend this company.
Valerie Weiss
Great Service and Great Product
I purchased the starter hand press kit that comes with starter bath bomb and shampoo press bar molds. The press was much more affordable than what other competitors were asking. I had a question about how to operate the hand press and I received a call immediately after sending a request via email on a weekend. I was impressed at the high level of customer service and willingness to take the time to explain the device to me. I am now up and running and producing some great shampoo bars. Thanks for your great service!!!
Jodi Ann C Moore
Revealing Legacy, LLC
A life saver!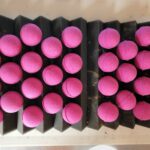 I purchased the mega ball press with the 2″ balls and it has been a life saver! I am able to make 32 bath bombs in less time than half the time it took me to do 14 balls individually with a single press! They say time is money and this will save me so much time and money! If you are looking for a bath bomb press and are ready to go this route you will not be disappointed buying this machine! I highly recommend Bathbomb x-press for the product AND the customer service!
LIANNE STATEN
BEAUTE AND THE BATH
Awesome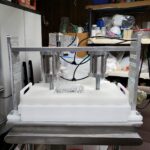 We bought the:
Multi Ball Mega Press,
2.25″ Mega Plate,
Pneumatic Press,
2″ Shampoo Bar Mold,
Chill Pill Mold Resin …
Everything works like a charm. You might have to adjust your bath bomb mixture to get the right consistency but after you get that, you are golden. We can slam out 21 bath bombs at a time. Huge game changer. The only thing I had to complain about was I wish I had gotten them to make me a 3-inch Shampoo bar mold. It was my fault but that is the only complaint I have … Lol
Cheryl Turner
A+++ Customer Service
I received my very first hand press as a Christmas gift 2021. I went directly to the video to find out how to put it together, easy to follow instructions. Upon inserting the handle to attach, I notice the hole was drill to far away to work. I quickly called to let them know of my problem. Jason was very nice and directed me what to do and that a replacement would be sent. I just want to say how impressed I was to receive my replacement parts for my Hand Press in such a short amount of time, and then to top it off to find an extra surprise tucked inside the box was unexpected but exciting. Your attention to your customers is impeccable. Thank you again and I look forward to start using both items.
Angela R Lussow
Game Changer!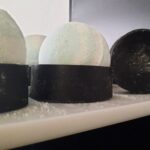 I received my bath bomb drying tray, and OMGoodness! What a game changer! With plans to eventually start my own business, I am very new to this and am still trying to find my footing. That being said, flat bottomed bath bombs were a real problem..until I found your site. I saw your bath bomb drying tray, and although it appeared to be a perfect solution, it also looked like it would not be within my budget. So, when I saw that it was only $20.00, I had to get it, even though I was a little scared of what the end product might be like (blame past experiences with others). This tray is AMAZING! It appears simple in design, so it isn't until you use it that you realize it's quality. I love how I had the choice of diameter (not one size fits all), how heavy and durable the tray actually is, and most of all I love that the molds aren't fixed. I can lift each one and place my 3″ diameter bombs in individually, without worrying about dropping it onto the tray and potentially breaking it. For someone who molds by hand (a press likely in the future) these trays are lifesavers. Thank you.
Trina Miller
Excellent Products and BEST Customer Service EVER!
High quality products, excellent customer service! I cannot say enough good things about this company and the people who own it. We have been ordering from Bathbomb X-Press for several years. We own one of their hand presses with several of the aluminum molds, and we now own one of their pneumatic presses with several newer resin molds. Both presses (and molds) have been everything described, plus the pneumatic press seems to have arrived magically indestructible (I am laughing here). Short story: somehow, when turned away from the then BRAND NEW press for a minute, I heard a loud crash-bang-thud. Nearly died before turning around because I knew. It had never made its first bath bomb and there was the pneumatic press on the floor– no clue how it happened. It hit so hard the floor was dented, but press was fine! Please do not try this with your own press because you may not fair as well as I did (HAHA!!). The mold was not as fortunate, but Jason, being the AWESOME person that he is, very quickly sent out a new mold. Jason has always been of great assistance when I have called needing help with anything and he is friendly with a great sense of humor – thanks a million Jason! Thank you for the products you offer and thank you for customer service that goes above and beyond.
Lunar Llama
Shampoo and Mermaid Tail Resin molds
My package came super fast to Canada from order to delivery was a week! I have purchased many many molds over the years and these newer type resin molds uphold the high quality workmanship that Jason and his team have always and continue to offer! Customer service is the best I have ever encountered in the industry! Thank you so much guys! Love these molds and would not hesitate to purchase again!
Nancy Kelly
Great purchase and experience!
I purchased the press and molds and wanted to say what a pleasure it was dealing with the owner. Super fast shipping and delivery. I did two separate purchases with them and both experiences were phenomenal. Will definitely purchase again! Thank you.
Glenda Singh
Great products and service
I've purchased the hand press and a few molds from this company, as well as sent a couple of emails to them. All emails were responded too quickly, professionally and warmly. The hand press really upped my game. I had ZERO issues with until recently – and the issue is not with IT, but with my hand! My business has grown and I've been making so many of steamers that my wrists are tiring – so I just invested in a pneumatic press and picked up a new mold from this company. I am also going to begin discussions on a custom mold. Every experience has been top notch!
April Meyers
Stripped Bath & Body
Phenomenal Service and Product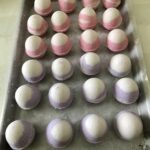 I was looking for a hand bath bomb press for my growing business at an economical prices. Bath Bomb X-Press fit the bill. Great design, easy to store and adjustable for various molds. Unsure of which sizes to buy, Jason was a great help as I needed a specific size for my small ball to fit within existing packaging. He suggested the 1.75″ which fit perfectly. Also, selected the 2.25″ ball which turned out to be similar in size that I had been using prior with the aluminum molds bought initially.
I was so pleased with their service, fast ship and the videos which helped me to put it together and gave me insight as to how much product to put into the mold. With a little adjustment on my recipe and a slight learning curve on my part. They came out soooo much better than before! I also ordered an Egg mold which was shipped quickly. Having ordered one on ETSY from another mold maker on Jan 19, 2021, to this day, its been 9 weeks and I still have not received it. At 8 weeks they made another, supposedly shipped it 3 days later and as of 3/24/21, still have not received it!! Their customer service stinks!
Jason's customer service is thru the roof. I applaud him and his team and will continue to buy molds from him in the future.
Janice Ballard
Designer Soap Works LLC
Absolutely outstanding customer service and quality products!
First let me just say that Jason goes above and beyond with his customers. Quick to answer questions and really wants to make sure youre happy with the products you purchase. Second, the quality of the molds I've purchased as well as the hand press is well beyond expectation! They're made to last and so so durable! I've made thousands of bombs in the last few months and couldnt be happier with how his products have held up. Thank you so very much. I cant wait to purchase an upgraded press!
Cassandra Hardin
multi plate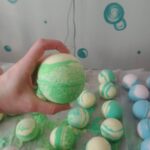 I ordered a multi-plate as a beautiful Xmas gift from me, to me.
It arrived rather quickly even with the pandemic going on.
I chose a 2.75″ bath bomb that makes 9 per time. I'm in love.
It is well made, sturdy. I think it will last long.
It really quicken up the process as we can make over 40 bath bomb per hour AND we were slow since it was our first time using it. The bombs release easily and are flawless.
It was a nice treat for me as I have arthrosis and can no longer use a hand press. So I make the bacth and my charming husband press and releses the bath bombs.
This will really up our game. Strongly recommands
Eve
Evelyne Lalancette
My Bath Bomb press upped my business game!
I started in business a year and a half ago, and for 6 months, I made my bath bombs using stainless steel hand packed molds. Then I broke my right thumb in a dirt bike wreck and I though it was game over for my new business. I bought a bath bomb press and some molds from Bath Bomb X-press and I actually enjoy making my bath bombs now. I have over 26 varieties not counting my Shower Steamers and Seasonal novelties. I can easily keep up with re-stocking and I have increased my profit line. One hand packed batch would yield 7- 3″ bombs (if I was lucky) and now I get 8+- 3″ bombs and I can make them in record time, with very little hand fatigue. Jason was super helpful when I started out with helpful suggestions and tips to get me started.
Kimberly Mikita-Jones
Bellarusse Bath Time Luxuries
My first bombs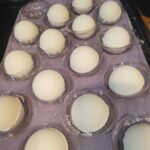 My first batch of bombs I ran through my new press. Thankfully I have a mechanically inclined husband who did the set up for me. My recipe, and they're bare naked butt naked. Thank you so much for having made available an affordable machine to make my job easier, and my business more profitable!
Jenny Lee
Absolutely amazing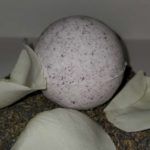 I had been researching automatic presses for some time now to keep up and get ahead of my orders. I found Jason's through a google search. I was hesitant because he wasnt a very known company but the price drew me in. After watching a couple of hous set up videos I opted for the new automatic press and got the air compressor he suggested. He helped me with my order and video chatted with me for set up!!! I could not be happier! You won't regret using this company i promise you!!
Amanda lynn
My products came fast and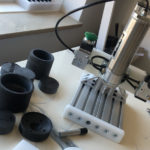 My products came fast and good even in a difficult time. The service by this company is very good!
Kevin steenbakkers
Molds
I purchased one of Jason's presses and a couple of the molds. I love these molds they make my life so much easier. Jason's customer service is great. He goes above and beyond to help you figure things out and his response time is fast. I would definitely buy more of his molds from him.
Melissa lombard
The pampered goddess
Multi-ball X Press plate molds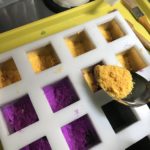 OMG I bought the 2.25" Diamond plate, the 2" Cube plate and the 2" Sphere plate and WOW! I have to say how fun and easy they are to use! I can make 16-24 bombs at once with my press plates. There's no-more making bombs one at a time. Jason is now making me a custom press plate of a Flying Saucer (Spaceship lol) so stay tuned!. Fabulous customer service as well as products. Way to go Jason on the best press & mold plates on the planet😋
Gail Wright
Multi-ball X Press machine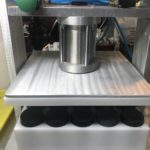 I love this press! I can make anywhere from 16-80 bath bombs at once, depending on the shape of the bombs in the press plate. I sold my other compressor press from another company to get this one. It's the easiest press to use and WOW I'm amazed how many bombs I can make at once! Hands down this company is the best on the planet! Jason answers within minutes any questions or concerns you may have. If you have a bath bomb bizz you need to up your game with this press!
Gail Wright
X-Press Customer for Life!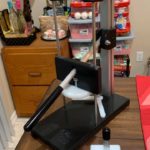 I was having a hard time getting my bombs packed hard enough to package and sell; and they were coming out uneven due to me pressing on them unevenly by mistake. The hand press has helped me get my bombs even, packed hard and saved me physical effort while making my bath bombs. The price is the best for this item; you won't find this quality at this price point elsewhere. And the customer service is AMAZING! Jason always responds to questions and suggestions, usually within minutes! I highly recommend any products from X-Press!!
Lorena Cramins
Incredible EVERYTHING!!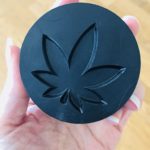 I've been using Jason's molds and press for the last year and I have to say I prefer ALL of his products over the "other" heavy aluminum pneumatic press I spent a fortune on! Every mold I use from here on out will be from Jason's line! His customer service is impeccable also!! He'll always go out of his way to provide stellar customer service which is HUGE TO ME!! Thanks so much, Jason!!
Rochelle Wadsworth
Love this company!
I found bbxp on facebook about two years ago when i was first starting my bath bomb journey. I saved up for a while and purchased their hand press. I have to say i was very impressed at the quality of the product! I have had my press for a little over a year now and love it! It is so easy to use and takes all the work and strain off of my wrists and hands. A few months ago I purchased a resin mold ( i live in louisiana and the humidity was killing my poor bombs!) it has been the absolute best mold i have ever owned!!! I will most definitely be purchasing more equipment from them in the future.
Ashley cruz
Soapy By Ashley Cruz
Very happy customer
I am very impressed with how well they make their products and respond to questions. They are eager to help you. Their Bathbomb electric machine is a game changer.
Anna Sandra Dodaro
Best presses ever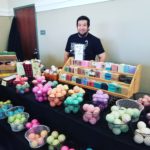 We own 1 of every press offered on the site. We started with the hand press and as our production increased so did our business. We were able to scale up presses every 6 months due to increased sales. The multi ball press cuts down production time and allows us more profit. The presses are all easy to use and the fact that we can interchange molds with the presses meant no additional cost when scaling up. The customer service is amazing. When we first started we had some issues but the owner facetimed us and walked us through step by step. We were making bath bombs with our press 5 mins later. He even replaced a mold when it arrived chipped due to shipping issues. He stands behind his products 100% and will even create custom molds!! Wonderful product wonderful service! You won't be sorry!!!
Jorge Ruiz
Spectacular Company
I'm so glad I switched over to this company! I sold my Bath Bomb Press and now have the Multi-ball Press. Great products, but most of all Jason's over the top customer service!
Gail Wright
Great service
I ordered a hand press it works great was easy to assemble. The molds give a professional look to my shampoo bars. Very happy! Also Jason customer service was touch notch I will use bathbombXpress for all future purchases.
Amy
Great Customer Service
Bath Bomb Xpress is a great company to do business with! Excellant communication from order start until shipment. Quick to answer any questions that you may have and super nice in addressing concerns about a recent purchase. I ordered an electric bathbomb press and a few molds. Really thrilled on the quality of molds I received, and how easy it actually was to put the press together! Thanks for great products that will make my time better spent 🙂
Laureen Gilbert
Twisted Mama's Candles
Excellent Customer Service & Amazing Product
For a small business, I have never seen such AMAZING customer service as I have with Jason time and time again. Being a small business owner myself, I will continue to strive to show that same level of customer service as I have received from him. I have now purchased many different items and will continue to do business with them ONLY! Thank you, Jason, for working with me and helping my business grow! Thank you, Davine – AN EXTREMELY HAPPY CUSTOMER FOR LIFE!!! 🙂
Davine Bright
Fabulous Bath Bombs!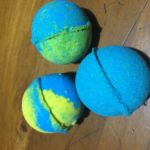 I absolutely love my new bath bomb hand press! After so many failed attempts at creating bath bombs the ones I made today came out perfect – they were firm yet didn't stick to the mold, didn't crumble or break – perfect! I'm keen to try different sized /shaped molds I'm hooked on bath bombs!
Julie Hamilton
Best thing since sliced bread
My hand press has just made my life a little easier. It's the best thing since sliced bread! I have bad wrists and hands and pressing my bombs with the hand molds was killing me to where I didn't want to make anymore. I found Jason's bathbombxpress website and I knew I had to have one. I got it for Christmas from my mom and sister. Best Christmas in a long time!!! Then on top of the great press there's Jason and Carolyn! Two of the nicest folks. They are always quick to help in anyway they can with giving advice, answering questions, making videos, etc. just to help us all out on our bath bomb journey. Thanks to Aud's and their fabulous team for all your hard work in taking care of us all!!! ❤️
Cindy Koffler
Oils Well That Blends Well Bath & Body
Top notch quality products and 5 star service *****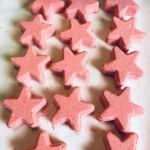 I have been a long time fan of Jason's products since he began his beta testing on his wooden pneumatic press. I have seen him work tirelessly getting his products absolutely correct and standing behind them 100%. I appreciate all of his work, I own the pneumatic press, several HDPE molds, and an aluminum mold. All are superior in craftsmanship. He also goes above and beyond to assist each and every customer on the group he runs. There's never a question unanswered, and if he can't answer in time, there's TONS of helpful experienced people in the group. It's a wonderful place that's a testament to the kind of business he runs. If all small businesses were run in this fashion, America would indeed be great again. Thank you Auds.
April Harvey
IM SO HOOKED…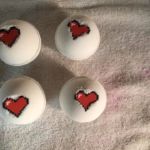 Today I received my pneumatic press and I was so happy, first of all thru my decision of what to buy and how to use it I fell in love with the FB page and JASON was THE MOST HELPFUL person ever. I can't thank him enough and all the people on the group page. Im totally hooked and so glad Is tumbled upon the page. My press was VERY easy to set up and I'm still getting use to it but I have to say I was a bit nervous but I'm easing onto the calm stage. But it was VERY EASY to use and he is there for you all the way. THANKS JASON and his wife,
Gina dattile
Love my pink pneumatic press
Love my pink pneumatic press and my handpress, plus all the molds i have. Customer service is unbeatable
Geniva Anderson
BOMB bon bathbombs
Love it!
I bought Jason's hand press and several molds a few months ago. After a few frustrating attempts at bomb making, I discovered that if you wipe out the mold with a dry paper towel in between bombs they will not stick! Never ever had one stick in the mold or break since. This has made my life so much easier! I highly recommend Jason's press and molds!
Thecla LaLonde
Gypsy Rose Soap